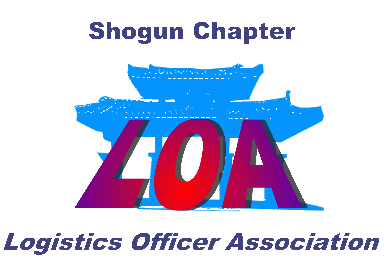 Universal theme is evident in that no symbolic representation of any of the logistics disciplines is depicted--a testament to our belief that no one logistician is more important than another.
Text for "Shogun Chapter" and the "Logistics Officers Association" merely helps to clearly identify our entity.
"LOA" acronym is understood by all in the Logistics Officer Association. It's Blue and Red gradient colors represent both Japan's and USA's national colors and the alliance that their peoples have with each other. Red in center represents Japan's rising sun. Pyramid shape represents logisticians' strong foundation with focal point upwards. The slight shadow indicates that logistics is in the forefront of operations.
The torii gate is a silhouette of Shurei-Mon Gate on Okinawa. Receptions for Japanese clan officials and Chinese sakuhoshi delegates were regarded as important events in ancient Ryukyu. It is said that the Shurei-Mon Gate which has become the symbol of Okinawa for tourists was constructed to welcome the sakuhoshi delegates. Logisticians on Okinawa coming together in unity is an important event. Like this gate, logisticians always welcome visitors/new members to their association and inputs from sister disciplines. Its light blue color is symbolic of the skies and the seas, representing universal partnership across the services and logistics.
Our logo was designed by:
Capt Keith Kenyon